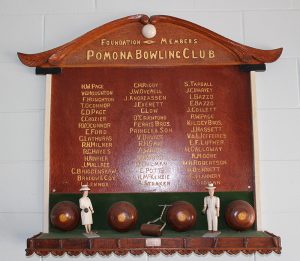 Community spirit and good old fashioned hospitality is the very foundation of the Hinterland town of Pomona, and has played a key part in the formation and success of Club Pomona.
When a group of locals gathered at the Sunshine Cafe in Memorial Avenue in August 1948, to discuss the formation of a lawn bowls club, they knew it was the start of some very hard work. The club was founded, the swampy ground was filled, the foundations were prepared and, eventually, a four rink green was laid with couch grass.  The first games were played in November 1948.
Our very first Pomona Bowls Club President was bank manager, Mr GK Rigby. And when the ladies club was formed on October 10, 1949 – known as Associates of the Pomona Bowling Club – it was Mrs M Overell who stepped into the role of Ladies Club President.
Facilities in those early days were nowhere near as good as they are today! But life certainly improved for our bowlers when the first clubhouse was built in 1951. The timber building was officially opened on November 18, 1951 and, in 1974, a second-hand cold room was purchased and installed.
This building served as the clubhouse until 1977, when a new brick clubhouse was built, thanks to the help of many volunteers. The official opening was November 20, 1977 and, with increased membership, a better cold room was purchased early 1980. The aim was always to add and improve and, in 1982, the original couch green was replanted with Tift Dwarf. In 1989, the green was reconstructed. Between 1975 and 1993, vacant land to the east of the green was purchased for future extensions when required.
Over the years the clubhouse has been extended to include a large bar and extra cold rooms. The original kitchen was relocated and, in 1992, the building was extended in both length and width to provide a gaming and lounge area and better toilet facilities. Gaming machines were introduced on June 4, 1993 and today, the Club has 12 gaming machines on the floor.
August 5, 1995 was a very important day, for it was the day the Men's and Ladies Clubs amalgamated, and we became known as Pomona Bowls Club Inc.
There was much celebration in late 2009, when a grant was received from the Queensland Government to install a much needed retractable shade cloth over the green. And, in May 2016, with another Government grant, we installed floodlights for evening bowls.
We've certainly come a long way since 1948! Pomona Bowls Club is recognised for its very high level of competition and success in intra and inter-club games.  We have bar and gaming facilities, a successful restaurant and eight rinks of a high standard.
Members can be very proud of the success of Club Pomona and we look forward to welcoming a growing number of members and visitors in the years to come.